We came across this comment on a recent blog post by Sarah Sherman Samuel, Interior and Product Designer extraordinaire, and reached out to Elaine to learn more about what the last 5 years have been like living in her Warmboard home.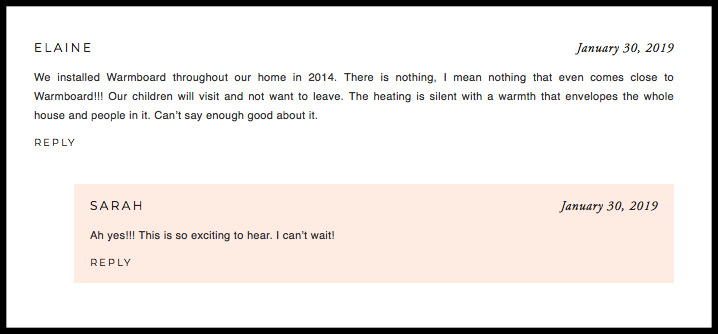 "We chose Warmboard after doing extensive market research on other radiant floor heating systems. Warmboard made the most sense to us in terms of quality, durability, and simply a smarter system.
We built this home ourselves with Warmboard and used travertine tile for all the floor coverings.
There are many benefits that we appreciate about our Warmboard floor such as even, consistent heating, no matter the time of day. Our Warmboard system maintains the warmth of our home 24/7 without having to turn on/turn off, etc.  
Another aspect of our radiant heating system that we enjoy is that it is quiet. There are no vents to deal with and no air is being pushed around our home. It's completely dustless! Warmboard is extremely comfortable and healthy heat!!!!!!!

And like I stated in my comment on Sarah's blog, our children come to visit and don't want to leave. Which I don't really mind."

Thanks to Elaine for sharing her family's Warmboard experience with us and we wish them many more years of unequaled comfort!