Winter comes faster than you think and preparing for extremely low temperatures now can make a world of difference. Homeowners use different types of heating systems. Some of the most common are boilers, heat pumps, and even space heaters. As technology advances, more and more homeowners are looking for and educating themselves on in-floor radiant heating. As a whole-home system, radiant heated floors can provide an energy-efficient method of heating a home with the added bonus of cozy, comfortable feet. 
When it comes to radiant floor heating installations, what types of subfloor work well with hydronic heat systems? We're exploring more about how hydronic radiant heating works and, specifically, how Warmboard works with OSB.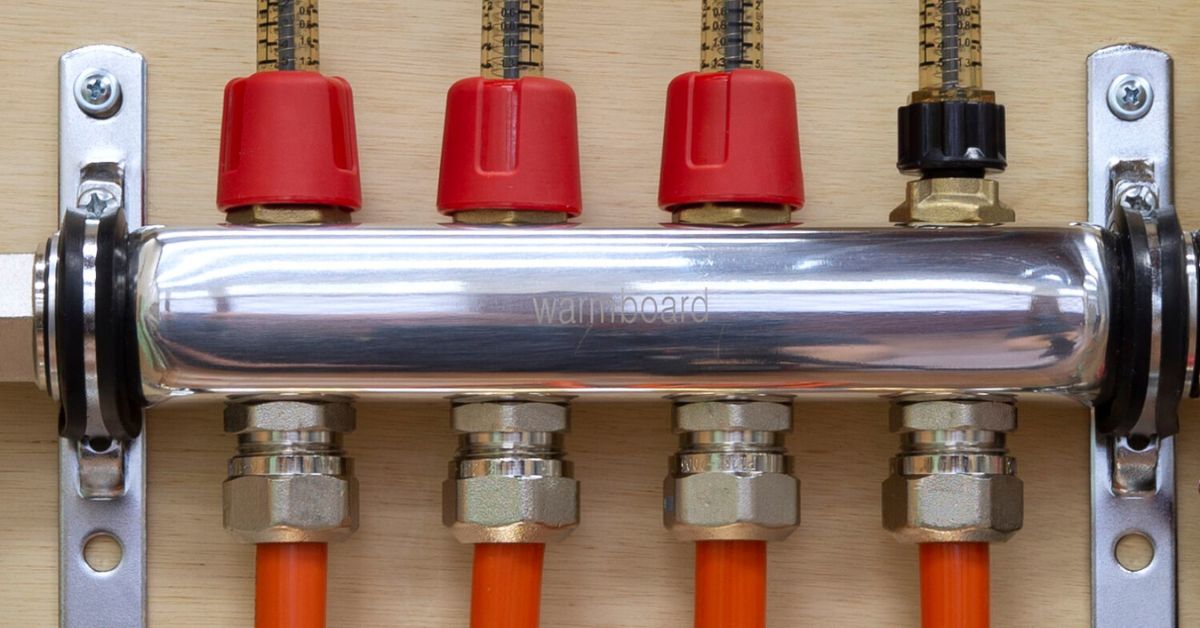 What Are The Different Types of Radiant Heat Systems?
We've explored this subject in greater detail here, discussing points on the different types of radiant heating systems: hydronic and electric. To sum it up, hydronic works with tubing that pushes warm water through. The water is heated from a dedicated boiler and can serve as a full heating system, replacing furnaces, forced air, and more. Electric, alternatively, uses electrical wire underneath flooring. 
Between the two, electrical radiant heat is often considered easier to install. Electrical mats are placed beneath desired flooring, generally in a small room. Some systems can be placed within thin-sets under the floor. However, repair is often needed for this type of radiant heating system and it can be costly long-term for maintenance and ongoing energy expenses. 
Hydronic radiant heat has a more complex setup. High quality PEX tubing is placed beneath the floor. Then, using a boiler, hot water travels beneath the floor, heating up the surfaces, and un turn, the interior of the home.
How Heating Systems Work With Subfloor
Home flooring is designed and installed in layers. The top-most layer – like tile, wood, or laminate – is called the floor covering or finish floor. It is named such as it covers the floor structure and can often be easily removed or replaced. Below the floor covering is a subfloor which is attached to the bottom floor joists. Subfloors are most commonly OSB or plywood, which provides a solid base for your homes' flooring. 
When installing radiant heat systems, they often rest between the subfloor and the floor covering. Direct contact with these heating systems and the floor covering creates the warmth you feel as you walk over your desired floor, whether it's tile, wood, engineered wood, or other. Radiant heat systems and hydronic heat, specifically, can replace entire home heating systems.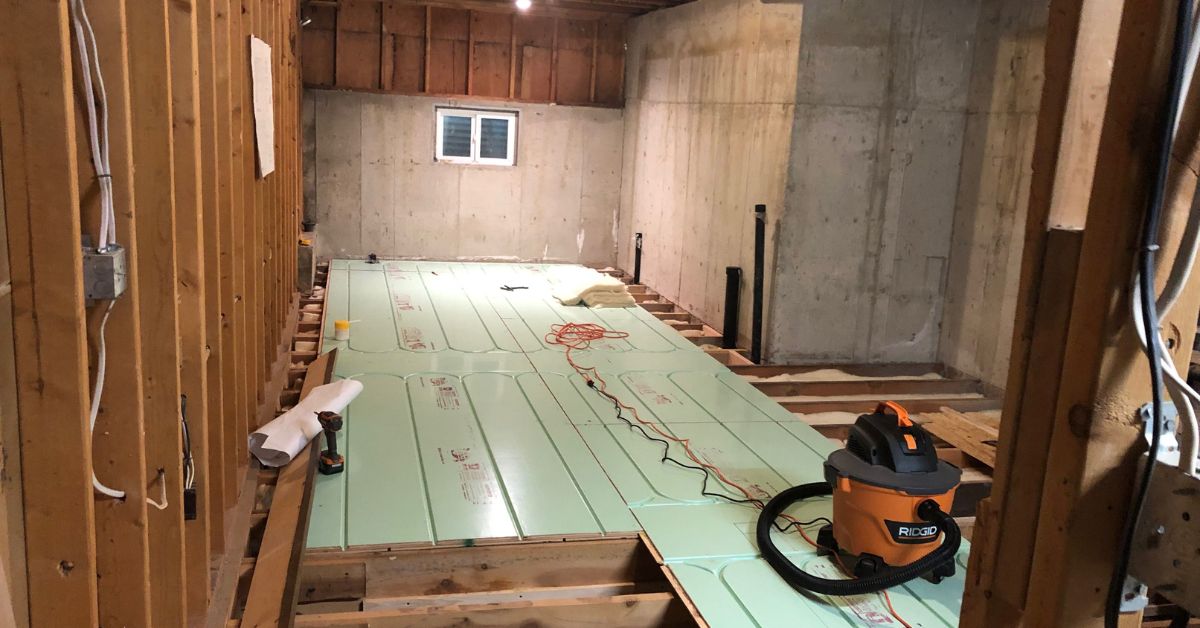 Hydronic Heating Methods
The tubing beneath the finish flooring needs to be held in place. And there are a few ways to do this.
The most common, and oldest method, is to embed the tubing into a concrete slab. This approach goes back several decades. It is notoriously difficult to control, and takes many hours to heat up, and cool down, which can cause a significant amount of time in discomfort, particularly when heating needs change rapidly.
A variation on this approach is to use gypsum concrete. Tubing is fastened down over a subfloor, then 1.5 to 2 inches of gypsum concrete is poured over the tubing. This also is a common method, but is fairly labor intensive with slow response times. The additional weight of the pour can also be problematic, adding 15lbs per square foot to the structure, which is not ideal in many situations.
The final approach is using a thin panel with grooves notched in to hold the tubing. These overlay panels are typically installed over an existing subfloor or concrete slab. However, our patented Warmboard-S panel IS a structural subfloor, and installs directly over the joist in a new home. Using this product saves significantly on labor and materials. The lower mass of these products allow the heat to be transferred more quickly into the interior space. And products that utilize a conduct surface, like Warmboard, helps transfer the heat more quickly. This ensure fast response to changing heat loads, and oftentimes, lower water temperatures as well, saving money on energy bills.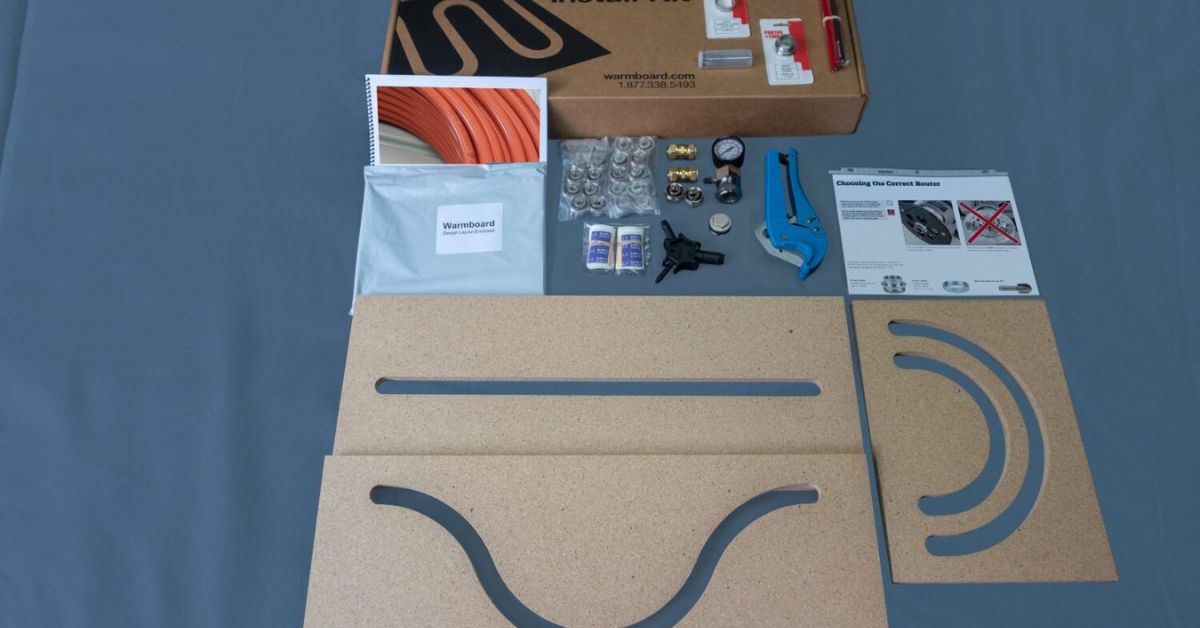 Warmboard Subfloor Heating Options
We have two types of panels. Warmboard-S is our structural subfloor panel that usually goes over joist. These panels are tongue and groove, 1 1/8″ thick and measure 4′x8′. Warmboard-R, which is made from OSB, is smaller and thinner and usually goes over an existing subfloor in a remodel application. It measures 2′x4′ and it is installed over concrete as well.
Warmboard is well known for its quick response time and efficient heat distribution thanks to the thick aluminum coating across all our panels, ensuring the fastest response times in the industry. Aside from comfort, the benefits of Warmboard are the long-term savings. Additionally, the panels can be customized to fit any room layout or size. We work with your homes' floor plans to install radiant heat that is fitted and works for your whole homes' heat. 
WARMBOARD RADIANT HEATING
At Warmboard we are experts in radiant heating. We have nearly 40m square feet of our panels installed throughout North America, and we have helped homeowners find comfort in their homes with energy-efficient systems that help to provide amazing results for homes of all ages. Whether you're renovating your existing home or planning a new construction, hydronic radiant heating is one of the top future-proof heating methods to consider. 
Warmboard staff is extremely knowledgeable and can help recommend a solution for your home to ensure energy savings, performance and comfort. Reach out to get started on your Warmboard project today.