We had the chance to chat with Gordon Milligan from Strathmore and Shayne Toohey from RTM Inc about their award winning project in Montreal, Quebec, Canada. 
Shayne Toohey is a Mechanical Contractor from RTM Inc. and Gordon Milligan, Vice-President at Strathmore Commercial Landscape Management and owner of the home where WCS was installed.
We discussed the process and effectiveness of the renovation project which won second place in our Best WCS installation 2032 competition. Despite some initial skepticism in using WCS, they praised Warmboard's detailed engineering drawings and the clarity of our installation instructions, highlighting the ease of implementation and the simplicity of the process. Shayne and Gordon also commend the assistance of Lochinvar, in providing top-tier boilers, asserting that even a non-professional plumber could manage with the guidance they provided. 
Shayne emphasized the positive impacts of a good installation and appreciated the trust homeowners placed in the engineering, and ease of use, of the Warmboard Comfort System. He highlights that despite the spread of poor DIY heating project examples on the internet, a cleanly executed, meticulous installation can be achieved by following instructions, bolstering homeowner satisfaction.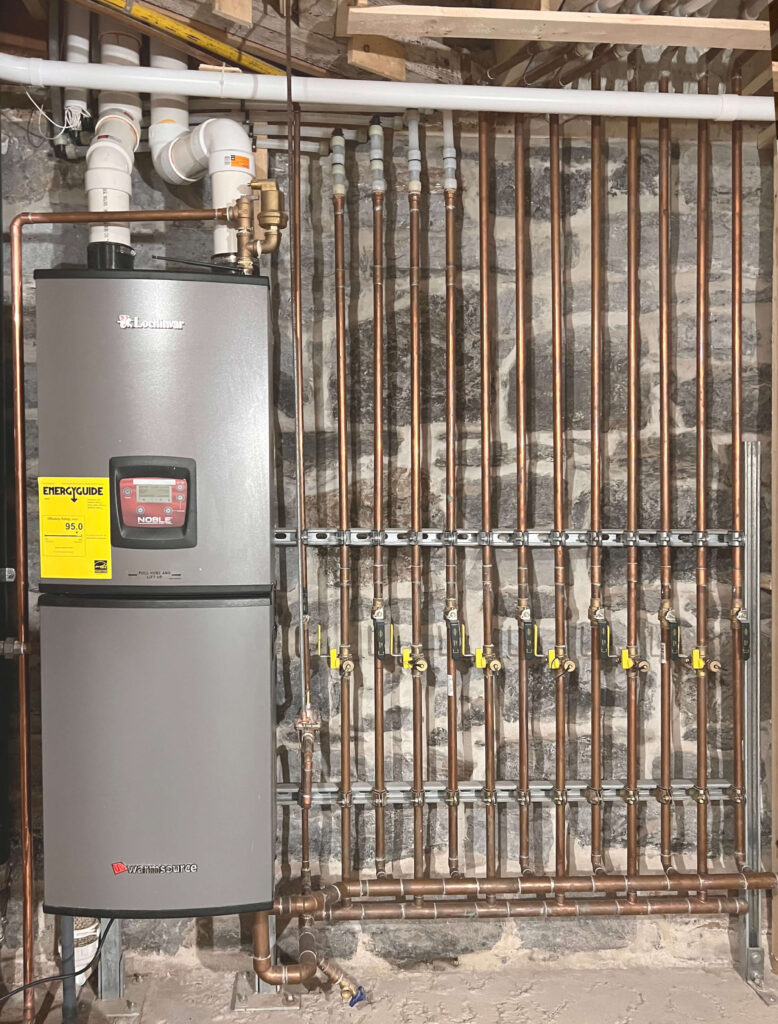 Interview transcript
:
When did you first hear about Warmboard?  
Gordon: I think I heard about you guys back in 2018 when I was researching radiant heating products. I came across you guys online in 2019 when you released your Warmboard Comfort System. I think I was actually one of the first WCS clients back then. And now this project, which we started at the end of 2022, is actually my second WCS  project.
Awesome. So you already had some experience with WCS. How was the planning process? I know you've been working with Tony and Kim from our team.  
Gordon: Very good. Kim was excellent! Warmboard feels, from the outside anyway, like it's a really big company, but when you interact with it, it feels like a small company. Which is appreciated. You can always get the right person on the phone, they're very responsive and they solve problems quickly.  
Great to hear. Thank you for saying that. Next question: What was your impression of the plan set? Was it easy to follow?  
Shayne: Yeah, it was really easy to follow. I mean, in terms of the panels the layout made a lot of sense. And they weren't just generic plans. They were specific to our house, and I think they were very easy to follow. 
Gordon: Shayne, I don't know on your end if you want to add to it.  But as far as the piping goes, I may even reuse them for future projects. I mean, everything was perfectly laid out, whole house runs, which made it very easy.
Shayne: With Warmboard we have a low probability of workmanship problems. And obviously we like to mitigate risk. So [WCS] is well thought out, it's super easy and it's pretty much step-by-step too. There's the purging of the system and all kinds of startups, but every aspect is covered in the instructions and it's all clear as day.
Gordon?: So, I mean pretty impressive. I think we were both actually very surprised at how easy it was.  
How was the installation? Any issues following the plan set?  
Gordon: From a technical aspect, it can be a bit intimidating when you first look at [the plan set], but once you get going and get into a good rhythm, it gets easier. The floors were perfect. I mean, like I said, because this was my second system, I kind of already had made myself familiar. But it was definitely consistent or better than the first time. From a technical aspect, it can be a bit intimidating when you first look at [the plan set], but once you get going and get into a good rhythm, it gets easier. But I mean, it's very, very simple. If anything, it's too simple. People were skeptical of how simple it is. 
Shayne: The boiler was perfectly easy. I was skeptical about buying a boiler that was all in one. And Gordon saw that from the get go. But the fact that you guys partnered with Lochinvar eased our minds as they one of our one of the top boiler manufacturers around. It's what we would have been doing anyway. 
So the fact that [Lochinvar] is part of the system, allowed Gordon, who is the client remember, to be super confident at the end of the day. So I said, "let's try it". And I'm super happy we did because it was easy. Easy and it's a really nice, nice system. Nice and cute and well put together.
And honestly, if you're using a plumber that's not necessarily a heating specialist, you have a very, very low probability of having any problems [with WCS] because it's all been taken care of for you. There's a lot of little intricacies to hydronics, especially in the residential market. There's lots to know, and unfortunately too many people don't know as much as they should. But [Warmboard] has kind of taken that whole aspect out of the process by saying, 'we're going to handle the boiler and the pumps, you just follow the instructions.' You can't mess up. And I mean, that's the truth – you really can't make a mistake if you follow your instructions. 
And you used Warmboard-R on this project, correct?
Gordon: Yeah, so this project is a renovation of a 130 year old house. We didn't need the structural panels. We had the subfloor so just installed over that and it was fine.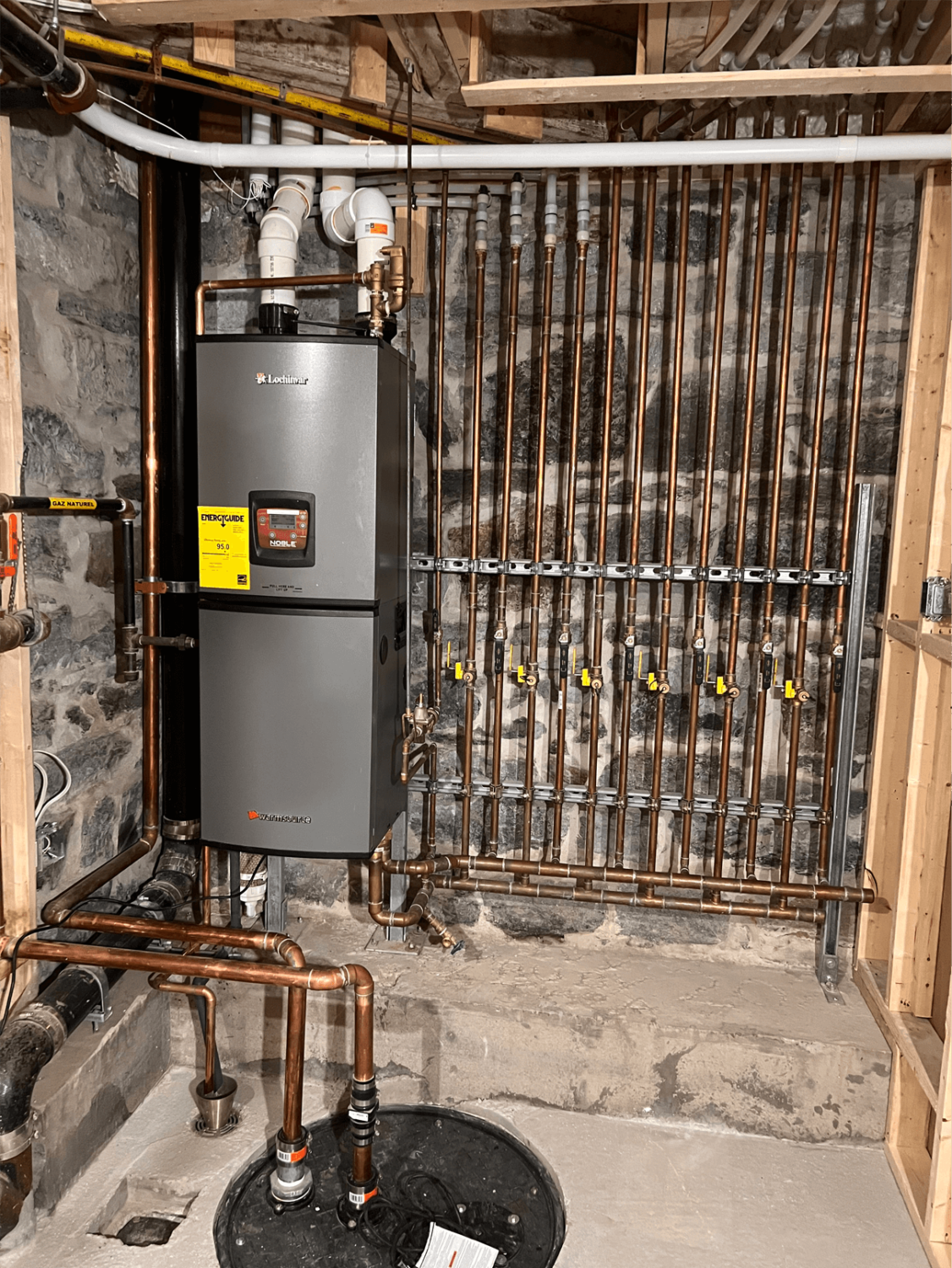 How did this WCS project compare to other radiant installations you've done before? You've said it's really easy, but were there any other benefits you saw with WCS?  
Shayne: So one aspect we have to consider here are laws. I know you guys are [based in] California, but we've got different laws in different provinces about labor, and who can do what. In our market, plumbers are responsible for handling the piping, but that's not true of all markets. I'll speak more generally in this case, but Gordon's GC was actually able to lay the pipe because it's such a simple layout and so easy to install. His regular laborers could do everything, and he didn't need to pay the cost of a specialized sub-trade to do this part of the project. So I mean, right away that's a huge difference. And it's an easy thing. Whether you're a homeowner or a GC or a plumber, so much of this install is super user friendly. So much of the specialty labor and guess work just gets taken care of. You just don't have to think about it.
And I mean, yes, many aspects will be intimidating to non-plumbers and non-heating specialists. And yeah, legally in some areas, certain trades may still have to be used for portions of the install. But what you guys have done presents a really interesting dynamic, and I don't even know if legally you could market this in some areas, but honestly, it's so easy the PEX piping could be put in by your grandmother if you want.
Also, and I think this is a huge aspect, which I touched on a bit earlier, but there's a lot of people that consider themselves hydronic experts and heating experts and I can tell you from experience that, in reality, there's not that many experts out there. 
So when you're a homeowner looking for a radiant system or for a contractor, you're working a lot on blind faith. But when you put your faith into Warmboard, their engineering and the Warmboard Comfort System, you know that the design in the system is going to take care of itself. So, you know, that's sort of a positive thing where it takes the shopping for the right specialty contractor out of the equation.  
Got it. Yes. We designed the Comfort System to be much easier to install, and much more accessible to a wider variety of trades. Glad to hear that's been your experience here too. 
So did you feel WCS leant itself to a cleaner installation? Do you think the homeowner (Gordon) appreciated the clean install? 
Shayne: I think, yeah. Homeowners definitely always appreciate a clean installation. And you know, that's the only way we work. Our company is very, very meticulous with our installations. And Gordon's house aside, if you were to open a walls we've done a 100 years from now, you're going to be able to tell that it's good plumbers that put it in.
That said, we all know the Internet is full of really bad examples of guys trying to do heating. [But] with the Warmboard Comfort System, if you follow the instructions, you're going to have a pretty clean installation at the end of the day. You show it on your Instagram, on your website and blog or wherever. But yeah, it definitely is a system that lends itself to clean installation.
Gordon: And just to add to that, I also really like the simplicity of your thermostats as well. It's just so important, ya know?. You don't want these big, bulky atrocities on your walls that you're gonna have to look at all the time. They're clean, simple, and not too fancy, but not the fact that it's an easy touchscreen it's really in line with the rest of the standard for the system and yeah, I just think it leaves the walls clean as well.
Following up on that, would you recommend Warmboard to other installers or homeowners?
Shayne: Yeah, I would, the Warmboard Comfort System is a premium offering. I don't consider it a luxury, but I do consider it a premium one. But I think you have to be going through quite an extensive renovation too.
We're lucky in Quebec we're very rich in natural gas so the fact that my house is plumbed to the natural gas network, it's very easy and very efficient to have a very nice, warm, consistent heat. 
And in our part of the world as well, a lot of the houses are the same vintage, late 1800s, early 1900s. They're all beautiful stone houses, but more often than not, when you go to one of your neighbor's or friend's houses, the floors are cold. And everyone has to wear slippers in their house. But I'll tell you, if you're going through the extent of renovation that, you're going to be lifting up all of your floors and leveling them, putting down Warmboard panels is worth considering. Depending on the scale and the budget, of course. But I do think it definitely does lead to a much greater comfort. Even my dogs appreciate it, and it keeps them off the couch and lying on the floor in the winter months. 
Thank you so much for your time Shayne  and Gordon. It was nice talking to you both.